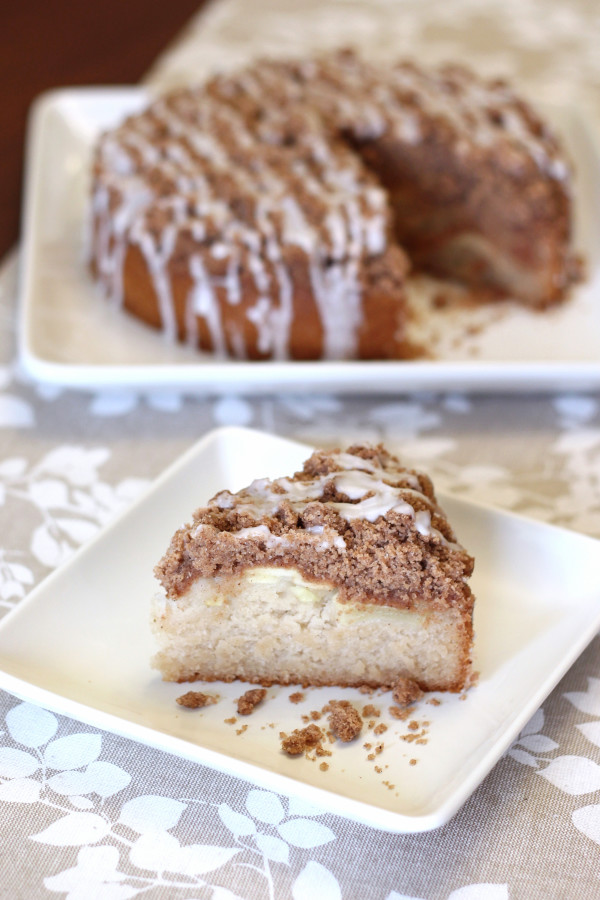 I love lazy mornings with my family. There really isn't anything better. They don't happen often, with school and work schedules. My husband works on Saturdays too. Not cool, but we're used to it. He does have Sundays off. Sunday mornings can also be a bit busy though, with getting ready for church. Kevin is usually playing on the worship team (he plays bass) or I'm teaching the 4-6 year olds class. So when we do get a morning at home, all of us together, with nowhere to go…I savor every moment.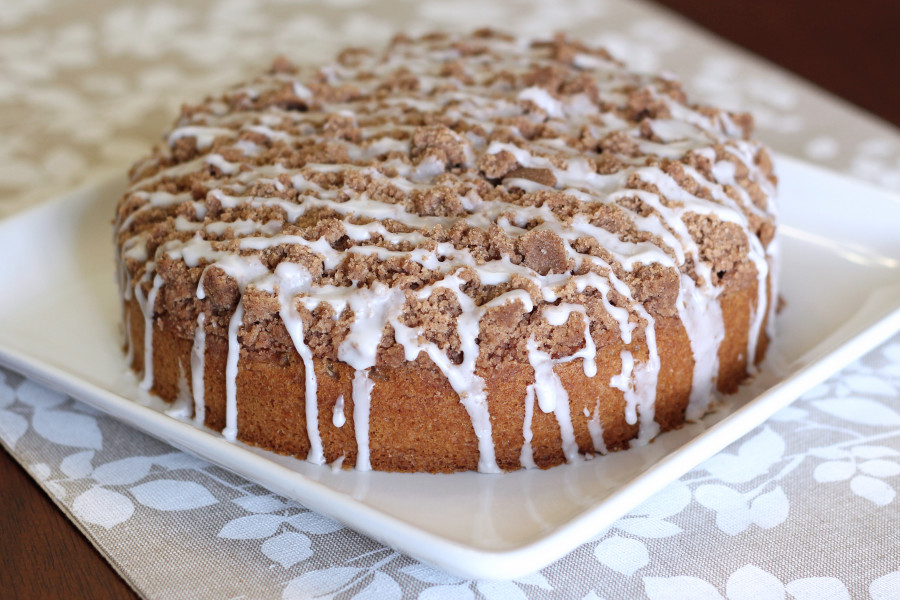 It's a no brainer that mom makes a yummy breakfast when we are all home. My kids almost always request pancakes. Bacon and hash browns are a family favorite. My husband goes for waffles. Sometimes he'll request his beloved coffee cake. Just simple cinnamon coffee cake or maybe pumpkin coffee cake. This apple version is what I came up the other day and I must say, it's a winner! Four lovely layers…moist cake, thinly sliced apples, cinnamon crumb topping and the much-needed simple glaze. Every layer in every bite. It all comes together beautifully.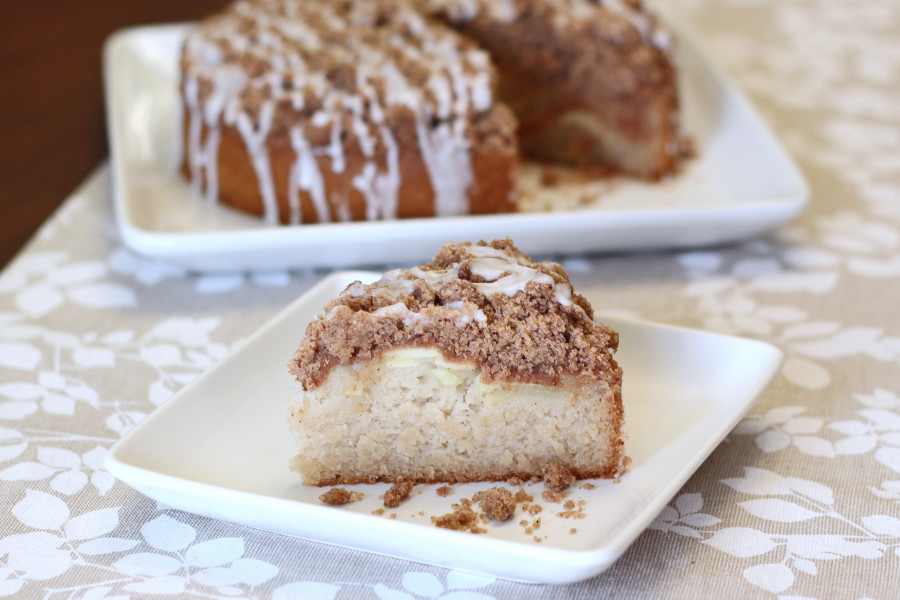 gluten free vegan apple cinnamon coffee cake
AUTHOR:
Sarah Bakes Gluten Free
INGREDIENTS
cinnamon crumb topping
apple cake
1 1/2 cups, plus 2 tablespoons Sarah's gluten free flour blend
1 teaspoon baking powder
1/2 teaspoon baking soda
1/2 teaspoon salt
3/4 cup So Delicious unsweetened coconut milk
1 tablespoon apple cider vinegar
3/4 cup organic cane sugar
1/4 cup unsweetened applesauce
1/4 cup canola or sunflower seed oil
1 teaspoon pure vanilla extract
2 apples, peeled, cored and thinly sliced
simple glaze
1 cup organic powdered sugar
2-3 tablespoons water
INSTRUCTIONS
Preheat oven to 350 degrees. Prepare 9-inch springform pan* by spraying with non-stick cooking spray.
To make cinnamon crumble topping, place 3/4 cup flour, brown sugar, sugar, coconut oil and cinnamon in mixing bowl. Blend ingredients together using pastry cutter or fork. Set aside.
In large mixing bowl, sift together 1 1/2 cups plus 2 tablespoons flour, baking powder, baking soda and salt. In separate bowl, mix together coconut milk and apple cider vinegar, until curdled. Mix in sugar, applesauce, oil and vanilla extract. Add to flour mixture and stir to combine.
Pour batter into prepared pan. Top with peeled and thinly sliced apples, in an even layer over batter. Sprinkle crumb topping over apples.
Bake cake for 50-55 minutes or until toothpick inserted comes out clean. Place cake on cooling rack. Allow to cool in pan for 15 minutes before releasing from springform pan.
Mix up simple glaze by whisking together powdered sugar and water, until desired consistency. Drizzle over warm cake. Slice and serve.
NOTES
*You can also use a 9x9-inch square or round baking dish. Be sure to line with parchment paper for easy removal.