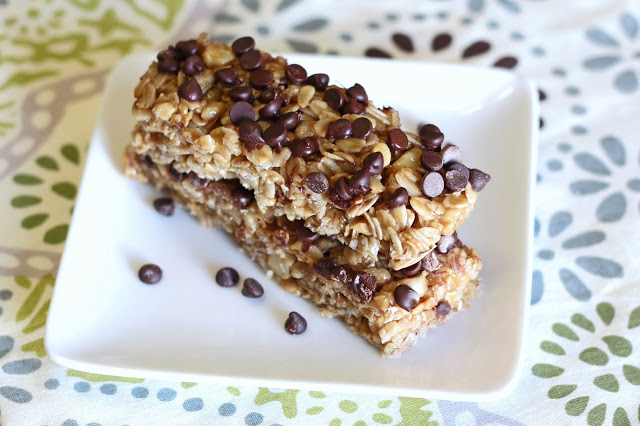 Our favorite on-the-go snack…granola bars. Especially homemade granola bars. Yum! My husband gets really excited when he sees a bag of them in the fridge. With his job, he does a lot of driving and needs to keep snacks in the car. Granola bars are great because they are packed with nuts, fruit and gluten free oats. They are much cheaper to make at home and you get to be in charge of every ingredient too.
I like to get creative with my granola bar mix-ins, but my family always votes for chocolate chips. Always. Nuts are usually added because they are a great source of protein. This recipe calls for crisped rice cereal, which also adds great crunch. I used sunflower seed butter in my granola bars, but you can use any nut butter you like. There really is no reason you should ever buy granola bars at the store, especially when you need them to be certified gluten free. These no-bake chewy granola bars come together in no time and you've got a healthy snack for the week (if they'll last that long!).
gluten free no-bake chewy granola bars
makes 12 bars
2 1/2 cups certified gluten free rolled oats
1 1/2 cups gluten free puffed rice cereal
1/2 cup chopped nuts (walnuts, almonds or pecans)
1/4 teaspoon salt
1/3 cup honey
1/3 cup coconut oil
1/4 cup brown sugar or coconut sugar
1/4 cup all-natural nut butter (sunflower seed, peanut, almond)
1/2 teaspoon pure vanilla extract
1/2 cup dairy free mini chocolate chips
Line 9×13-inch baking dish with parchment paper. In large mixing, combine oats, puffed rice cereal, chopped nuts and salt. Set aside. In small saucepan, stir together honey, coconut oil, brown sugar and sunflower seed butter. Over medium-low heat, bring to a low boil. Continue to stir for 2 minutes, until sugar is dissolved. Remove from heat and add vanilla. Pour over oat mixture. Stir to coat evenly. Let cool for 8-10 minutes.
Press granola mixture into prepared pan. Sprinkle with chocolate chip. Lightly press chocolate chips into granola. Place pan in refrigerator for 20-30, for bars to firm up. Remove bars from pan by lifting up parchment paper. Cut into even squares or rectangles. Store in air-tight container. Granola bars stay more firm if stored in refrigerator, which is how I like them!