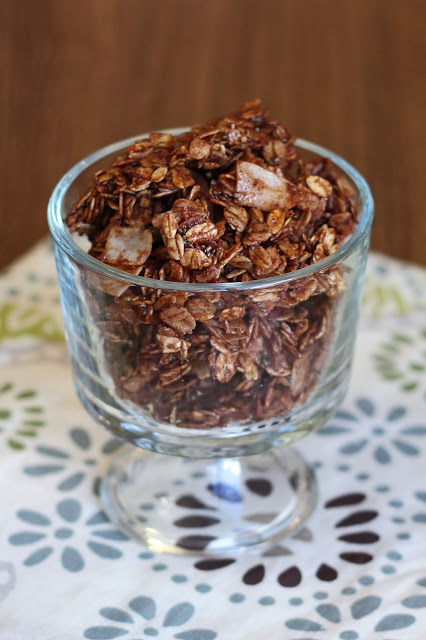 I'm not a big cereal eater, but I do love a good granola. Especially homemade granola. It's great for a quick breakfast or for a healthy snack. I like to make a batch and package it in little baggies to take with me while I'm running my errands. My son, Kaden, is crazy about granola so I always have to bring some for him too!
I got a little adventurous this week and made my first batch of chocolate granola. I wasn't quite sure how it was going to work, just adding the cocoa powder, but I was pleasantly surprised. Just enough chocolatey goodness, with those sweet coconut flakes. Coconut and chocolate are so perfect together. You could also add some sliced almonds to this granola too. That would be tasty! I did add chia seeds, but you can certainly make it without. This gluten free chocolate coconut granola is super crunchy and totally addicting!
gluten free chocolate coconut granola
makes 8 servings
4 cups certified gluten free rolled oats
1 cup unsweetened coconut flakes
2 tablespoons chia seeds
1/2 teaspoon sea salt
1/3 cup canola or sunflower seed oil
1/4 cup brown sugar or coconut sugar
1/4 cup pure maple syrup
1/4 cup honey
1/4 cup cocoa powder
1 1/2 teaspoons pure vanilla extract
Preheat oven to 300 degrees. Line large baking sheet with parchment paper. In large mixing bowl, stir together oats, coconut, chia seeds and salt. In separate bowl, combine oil, brown sugar, maple syrup, honey, cocoa powder and vanilla. Pour over oat mixture and mix together with rubber spatula. Spread on prepared baking sheet. Bake 30 minutes, stirring every 10 minutes. Remove from oven and let cool on baking sheet. When cool, break up granola and store in airtight container.