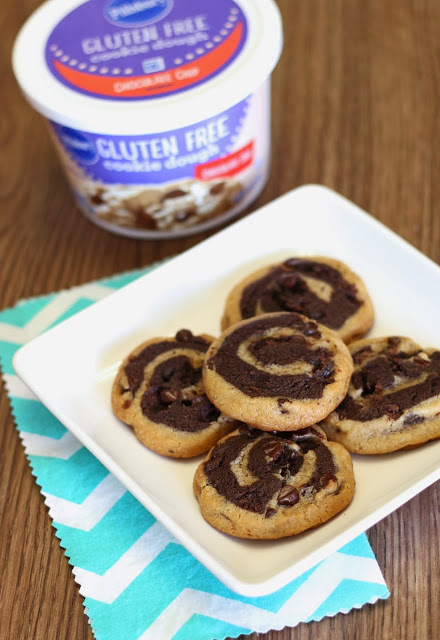 New Year's Eve is the next big holiday and it's quickly approaching. Does anyone have a fun and exciting party to attend or maybe that you're hosting? We usually get together with a couple of other families, who also have young kids. Since we all can't get childcare on the same night, it's just easier to make it a (loud and crazy) family thing!
With all the baking I've been doing these past few weeks, I want to bake something easy to bring to the New Year's Eve party. Thanks to Pillsbury, that will be no problem! In case you haven't heard, Pillsbury now offers 3 gluten free baking doughs, all available in the refrigerator section at your local grocery store. You can choose from chocolate chip cookie dough, pie and pastry dough, as well as thin crust pizza dough. All gluten free and ready to bake!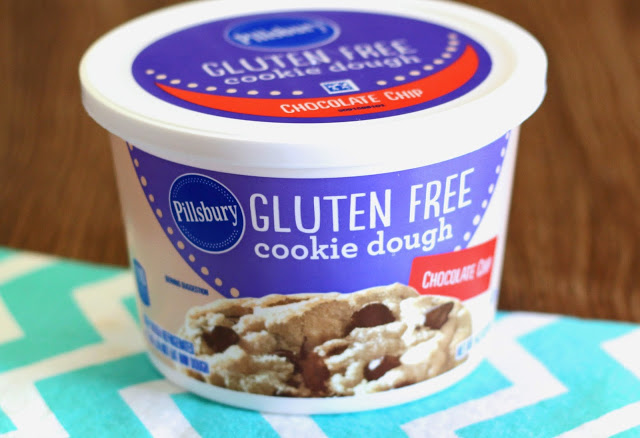 I recently picked up a tub of the Pillsbury Gluten Free Chocolate Chip Cookie Dough to give it a try. I was so happy to see that it was dairy free too! As much as I love the classic chocolate chip cookie, I wanted to give it a twist. I divided the cookie dough in half and add a little cocoa to one half. I'm a firm believer that you can never have too much chocolate. I rolled the two doughs together, sliced, baked and there you have it…chocolate chip pinwheel cookies. Crispy on the outside, chewy and gooey on the inside. Perfection.
These gluten free chocolate chip pinwheel cookies were a huge hit in my house. My kids loved the chocolate swirl, but weren't too happy with me when I said they could only have one after they finished their lunch (I know, I'm so mean). Thanks, Pillsbury, I'm officially a fan. This mom is thankful for easy and tasty gluten free treats!
gluten free chocolate chip pinwheel cookies
makes 20 cookies
Divide cookie dough in half. Place one half in mixing bowl. Set aside. In small bowl, whisk together cocoa powder and oil until smooth. Add to half of cookie dough and mix to combine. Cover counter space with sheet of plastic wrap. Place half of regular cookie dough onto plastic wrap. Using your hands, carefully spread dough out into a 12″x8″ rectangle. Repeat with chocolate dough.
Invert chocolate dough on top of regular cookie dough. Remove plastic wrap. Starting with 12″ edge, roll up dough together into a log. Wrap tightly with plastic wrap and place in refridgerator for 1 hour or until firm.
Preheat oven to 350 degrees. Line baking sheet with parchment paper. Remove cookie dough from refrigerator and unwrap the plastic wrap. Using a sharp knife, cut into 1/2″ slices. Place on baking sheet and bake for 8-10 minutes, until edges are golden brown. Place cookies on cooling rack to cool completely. Store in airtight container.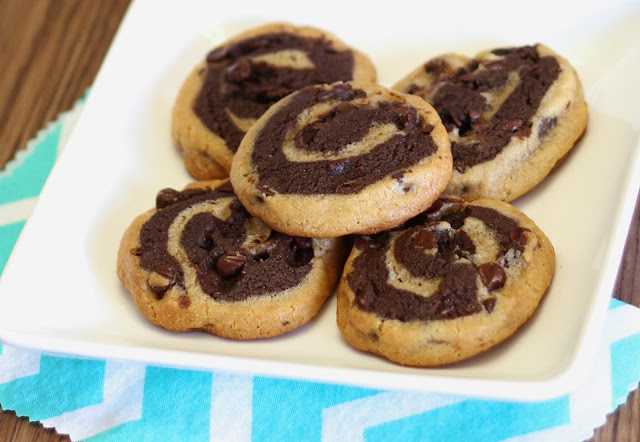 Be sure to check out all of the gluten free products that Pillsbury has to offer. They have also put together fabulous gluten free recipe board on pinterest too, featuring the gluten free chocolate chip cookie dough, pastry dough and pizza dough!
This post is sponsored by Pillsbury. All recipes and opinions are my own.