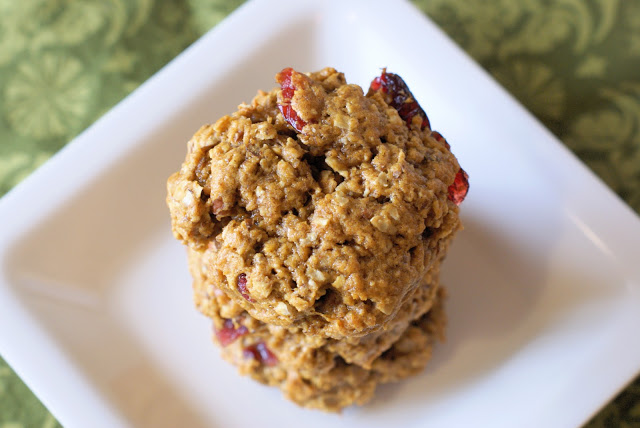 Cookies are my weakness. When there is a batch of warm, soft cookies sitting on the kitchen counter…it is almost impossible for me to resist. Maybe it's because they are the perfect grab-n-go dessert. Maybe it's because you don't feel so guilty eating just one. Maybe it's simply because I LOVE cookies.
These pumpkin cranberry oatmeal cookies just might be my new faves. Moist. Addictive. I took the original recipe, cut it in half and added a few magic touches. They sure are packed full of hearty ingredients…oats, flaxseed meal, cranberries, pecans, and coconut oil. I'm a sucker for pumpkin cookies too. I just can't seem to find any reason why anyone wouldn't fall head-over-heals in love with these gluten free treats. Yummy, yum, yum!
gluten free vegan pumpkin cranberry oatmeal cookies
makes 18-20 cookies
3/4 cup certified gluten free quick cooking oats
1 tablespoon ground flaxseed meal
1/2 cup organic brown sugar
1/4 cup organic cane sugar
1 teaspoons ground cinnamon
1/4 teaspoon sea salt
1/2 teaspoon baking soda
1/2 cup pumpkin puree
1 teaspoon pure vanilla extract
1/2 cup dried cranberries
1/2 cup toasted pecans, chopped
Preheat oven to 350 degrees. Line baking sheets with parchment paper. In large mixing bowl, combine flour blend, oats, flaxseed meal, brown sugar, sugar, cinnamon, salt, and baking soda. Add pumpkin puree, coconut oil and vanilla. Mix until combined. Fold in the cranberries and pecans. Drop tablespoon-size scoops of cookie dough onto prepared baking sheet. Bake for 9-11 minutes. Cool cookies on baking sheets for 3-5 minutes before transferring to cooling rack.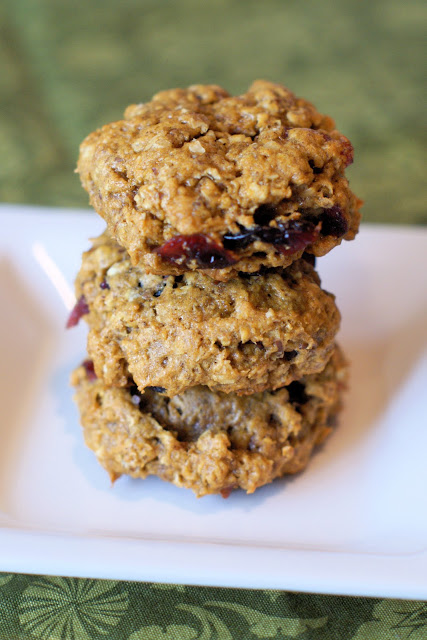 Recipe adapted from Free Eats