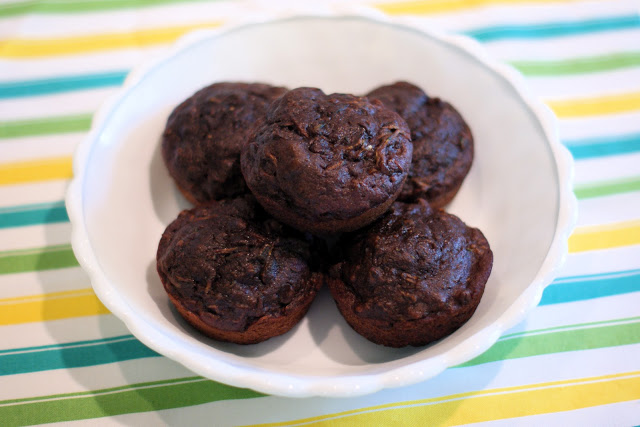 Sometimes you just need to eat chocolate for breakfast. No, not a big slice of chocolate cake (which you would totally regret later) or a deep-fried chocolate-covered donut. I'm talking about these super yummy gluten free chocolate zucchini muffins! Moist as ever and full of freshly grated zucchini. Did I mention they have tiny morsels of chocolate goodness in every bite? You may feel a bit naughty or like you're cheating because they taste just like decadent chocolate cake! Go ahead. Make these this weekend and you'll be a fan of chocolate for breakfast too!
gluten free chocolate zucchini muffins
makes 22 muffins
1 1/2 cups Sarah's gluten free baking blend
1/2 cup cocoa powder
1 teaspoon salt
1 teaspoon baking soda
1/2 cup canola oil
1/2 cup unsweetened applesauce
1 cup sugar
3 eggs
1 teaspoon pure vanilla extract
2 cups grated zucchini (I used 2 large zucchini)
1 cup mini chocolate chips
Preheat oven to 350 degrees. Spray muffin pan with
cooking spray or line with paper cups. Sift together flour, cocoa powder, salt, and baking soda. In large
mixing bowl, stir together oil, applesauce, and sugar. Squeeze excess water out of shredded zucchini. Add to batter,
along with eggs and vanilla. Gently stir in flour mixture and chocolate chips until just
combined. Pour batter into prepared muffin pan. Bake 20-22 minutes or
until edges are golden brown. Remove from pan and cool on cooling
rack. Store in airtight container.