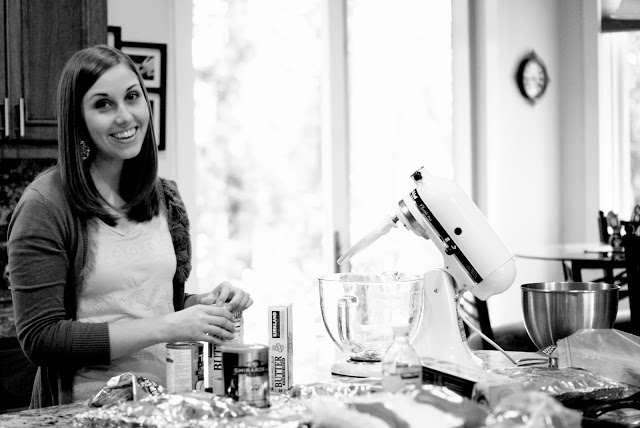 It all began with a little girl, wanting to be right by her mom's side…in the kitchen. She noticed her mom seemed to always be covered in flour, from making her famous rolls and all the wonderful recipes that grandma used to make. She wanted in on the fun! That little girl…was me. I can remember having such a curiosity with baking and recreating yummy recipes. My mom was so patient with me, helping me measure and teaching me how to be creative in the kitchen. She was the best at making fabulous meals and treats from scratch, without a recipe. Loved that! My mom learned from the best, her mom. My grandma was an amazing baker too and how thankful I am for the legacy that she passed onto my mom. I guess you could say that my mom has now passed it on to me. Forever I will be grateful for my inherited love of baking.
I married my husband Kevin, in May 2003 and was the proud to finally have my very own kitchen. Oh joy! I didn't own a Kitchenaid mixer quite yet, my mom told me I had to be married for five years before she would buy me one. You bet I held her to that one! So I did all my mixing by hand, always showing up at every event or party with a plate of fresh baked cookies or a delicious cake. I seriously couldn't show up without dessert. My friends caught on quickly and knew they could always rely on Sarah the baker for providing the sweets. I was often called "the next Martha Stewart" which I could see since I also have a great love for all things crafty! It's very important for me to not only make things taste good, but they must also look cute too. Hosting birthday parties, planning the next holiday gathering, is always on my mind. My heart is to show my love for others through the gift that God has given me….hospitality. It makes me happy to add those special touches to let others know how much I care for them. What says "I love you" more than a big fat slice of chocolate cake?
I finally received my apple green Kitchenaid mixer for Christmas, the year Kev and I celebrated our 5 year wedding anniversary. What a glorious day! I just wanted to bake and not stop. How did I ever make anything without my Kitchenaid? I was hooked! The cookie love was pouring out of my kitchen, when one day my baking journey came to a crashing halt. My husband found out that he had celiac disease. For those of you that don't know, celiacs is an autoimmune disorder where your body cannot digest gluten (wheat, barley, oats and rye). Kevin's sister Jen also has celiacs so we were aware of the general diet. All I could think about…how am I going to bake without flour?! We were very thankful to find out this news, but also terrified of the changes we were going to have to make. Not only can you not eat gluten when you have celiac disease, you have to be extremely careful with contamination. We had to throw away our toaster and vigerously scrub my mixer and all of my baking tools. My kitchen was now a gluten free kitchen. What in the world?
To add to our big life change, I found out that I have a gluten allergy. I've had stomach issues for as long as I can remember. I knew dairy bothered me, but I had no idea about gluten. I was tested for all allergens and gluten was my highest. My son Kaden, also had tummy troubles and by eliminating gluten from his diet, realized he has an allergy to it as well. We were very thankful to finally figure out what was bothering him. It was also a relief to know that I would be cooking gluten free for more than one family member. I started trying new recipes that I would find on different gluten free blogs. Let's just say it was a whole lot of trial and error! Oh man. I was feeling so defeated. My spirit was crushed as I would open up the oven door, only to find my cookies were melted into one big giant crusty cookie mess. Kevin witnessed many breakdowns in the kitchen. I didn't want to throw away yet another batch of gluten free nastiness. What was a non-gluten free baker to do? There had to be an answer to my dilemma. God didn't give me this passion to just be smashed by the dreadful gluten. I was going to bake again. I was going to be a darn good gluten free baker too!
I finally decided to come up with my own gluten free flour mix that I could use in place of all purpose flour. I had so many favorite recipes that I was dying to bake again! I tried a few recipes out, until I found the one that worked. I could jump for joy! I found a gluten free flour blend that I was able to use in just about any recipe for cakes, cookies, and muffins that really did work. The victories were starting to far out way the defeats. Praise the Lord! I would say it took a good 6 months to get the hang of it. I began to mix up the flour in large batches, always keeping it on hand for that itch to bake (which is pretty much all the time). My family and friends were pretty happy when they would see those treats coming to their door. This baker was back in business! I was starting to create desserts that no one could even tell were gluten free. They were amazed! It really was a proud moment for me, to know that I could continue my love for baking. My kitchen is now 100% gluten free, but it most certainly isn't cupcake or cookie free!
So now to this gluten free blog. I have had many friends ask for recipes once they try my treats. I don't know how many people I have emailed my favorite chocolate cake recipe to…too many to count. It's been on my heart for some time now, to start a blog where I can share my gluten free baking adventures with all of my family and friends…and those who are scared to try baking gluten free. I'm not going to say it isn't an adjustment or that everything you bake always turns out perfect. I just want those that have celiac disease or a gluten allergy to enjoy blackberry cobbler or a chewy peanut butter cookie again! There are those (scrumptious) simple things in life that just aren't worth giving up. Don't give up baking…just bake gluten free with me!