gluten free vegan caramel apple bundt cake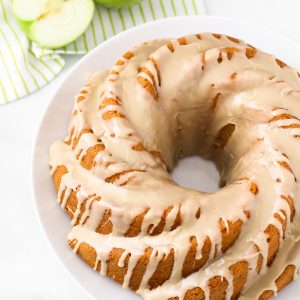 AUTHOR:
Sarah Bakes Gluten Free
3 1/4 cups Sarah's gluten free flour blend
2 teaspoons ground cinnamon
1/4 teaspoon ground nutmeg
1 1/2 teaspoons baking powder
1/2 teaspoon baking soda
1 teaspoon sea salt
1 cup unsweetened almond milk
1/2 cup apple juice or water
1/2 cup avocado oil or sunflower seed oil
1 cup brown sugar
1/2 cup cane sugar
2 tablespoons apple cider vinegar
1 1/2 teaspoons pure vanilla extract
1 1/2 cups peeled and grated apples, grated on large holes
1/2 cup brown sugar
1/2 cup coconut cream, cream from top of canned coconut milk*
1 1/2 cups sifted powdered sugar
1/2 teaspoon pure vanilla extract
pinch sea salt
Preheat oven to 350 degrees. Spray bundt cake pan with nonstick cooking spray.
Whisk together flour, cinnamon, nutmeg, baking powder, baking soda and salt. Set aside.
In large mixing bowl, mix together almond milk, apple juice, oil, brown sugar, sugar, oil, apple cider vinegar and vanilla. Add grated apples and flour mixture. Stir until batter is smooth and well combined.
Pour batter into prepared bundt cake pan. Bake cake 50-55 minutes, depending on bundt cake pan. When toothpick inserted into cake comes out clean, remove from oven.
Place cake on cooling rack and allow to cool in pan 15 minutes. Invert cake onto cooling rack to cool completely.
To make caramel glaze, place brown sugar and coconut cream in small sauce pan. Over medium heat, stir and bring to a low bowl. Once boiling, stop stirring and set a timer for 2 minutes.
After 2 minutes of boiling, remove caramel from stove top. Carefully pour into mixing bowl. Add powdered sugar, vanilla and salt. Whisk glaze until smooth.
Drizzle caramel glaze over cooled cake. Allow to set for glaze to harden. Slice and serve.
*Open up can of full-fat coconut milk. Scoop out 1/2 cup of the coconut cream from the top. Try not to get much of the coconut water from the bottom.
Recipe by
Sarah Bakes Gluten Free
at https://www.sarahbakesgfree.com/2019/10/gluten-free-vegan-caramel-apple-bundt-cake.html