gluten free vegan cinnamon sugar pumpkin donuts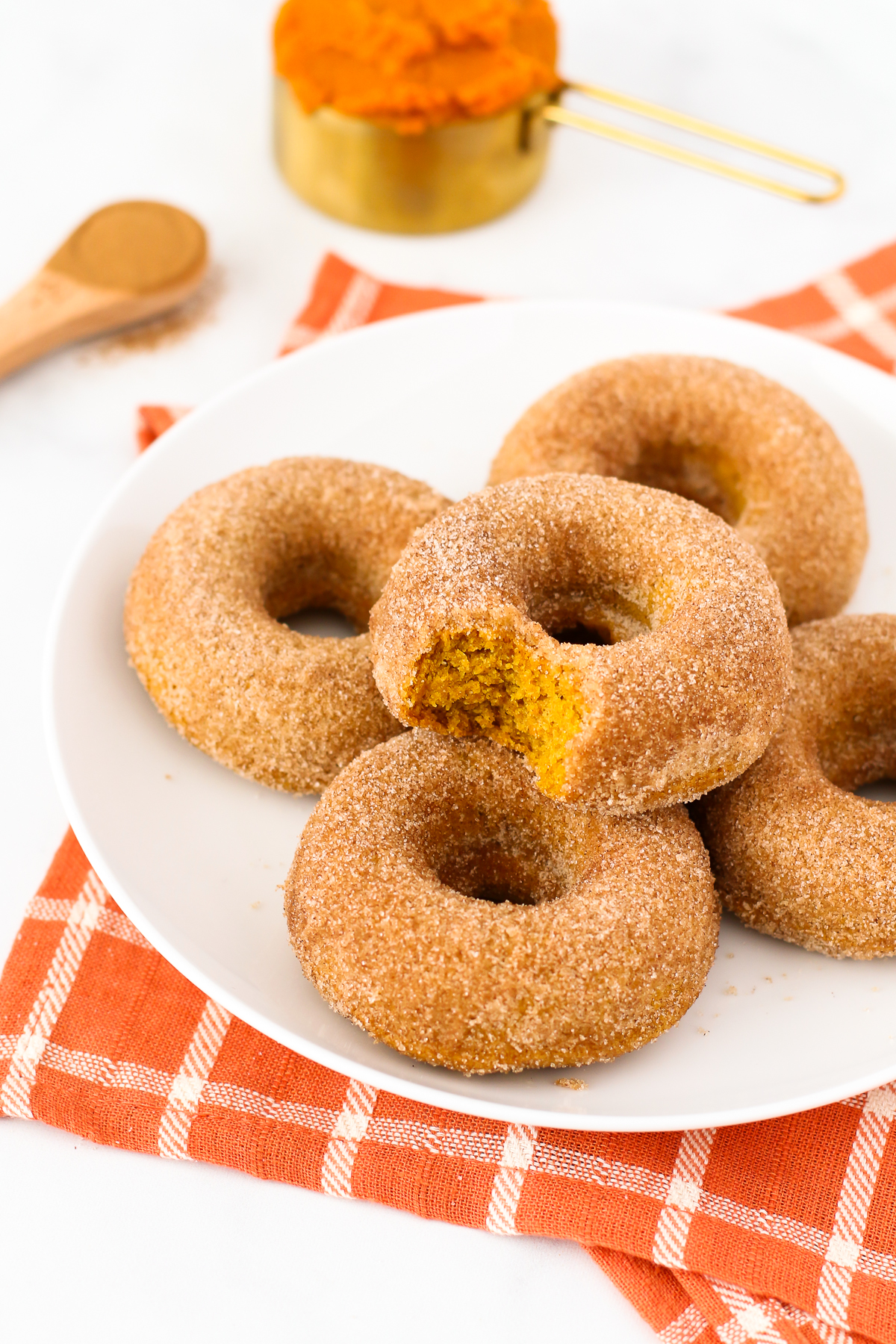 AUTHOR:
Sarah Bakes Gluten Free
1 3/4 cups Sarah's gluten free flour blend
3/4 cup cane sugar
1 1/2 teaspoon ground cinnamon
1/2 teaspoon ground ginger
1/4 teaspoon ground nutmeg
1 teaspoon baking powder
1/2 teaspoon baking soda
1/2 teaspoon sea salt
3/4 cup pumpkin puree
1/2 cup water
1/4 cup pure maple syrup
3 tablespoons avocado oil or grape seed oil
1 tablespoon apple cider vinegar
1 teaspoon pure vanilla extract
1/4 cup cane sugar
1 teaspoon ground cinnamon
2 tablespoons refined coconut oil, melted
Preheat oven to 375 degrees. Spray standard-size donut pan with nonstick cooking spray.
Whisk together flour, sugar, cinnamon, ginger, nutmeg, baking powder, baking soda and salt in mixing bowl.
In separate bowl, mix together pumpkin puree, water, maple syrup, oil, vinegar and vanilla. Add to flour mixture and stir until just combined.
Spoon batter into piping bag with large round tip or large ziplock bag, cutting tip. Pipe batter into prepared donut pan, filling almost to the top.
Bake donuts for 15-17 minutes, until golden brown and baked through. Turn out onto cooling rack to cool. Repeat with remaining batter.
Mix together sugar and cinnamon in shallow bowl. Brush melted coconut oil onto tops and sides of cooled donuts. Immediately dip into cinnamon sugar mixture to coat each donut.
Place donuts back on cooling rack. Donuts are best served same day.
Recipe by
Sarah Bakes Gluten Free
at https://www.sarahbakesgfree.com/2019/09/gluten-free-vegan-cinnamon-sugar-pumpkin-donuts.html