gluten free vegan maple walnut scones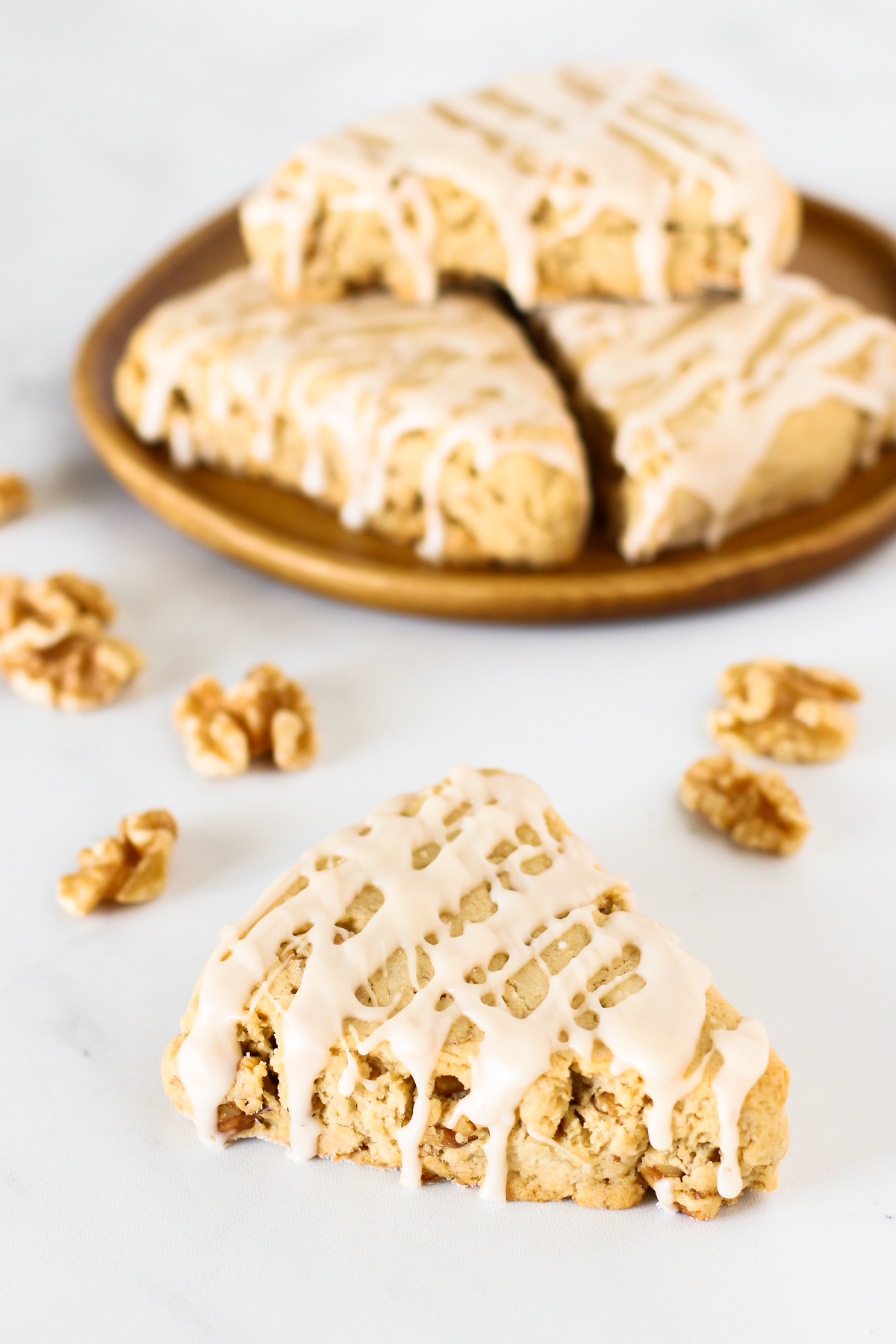 AUTHOR:
Sarah Bakes Gluten Free
1/4 cup cane sugar
1 tablespoon baking powder
1/2 teaspoon baking soda
3/4 teaspoon sea salt
1/2 cup dairy free butter, cold
1/2 cup unsweetened almond milk or other non-dairy milk
1 tablespoon white vinegar
1/2 teaspoon pure maple extract
1/2 teaspoon pure vanilla extract
1 cup chopped walnuts, toasted*
1 cup powdered sugar
1 tablespoon pure maple syrup
1-2 tablespoons almond milk
1 teaspoon pure maple extract
1/2 teaspoon vanilla extract
Preheat oven to 375degrees. Prepare baking sheet by lining with parchment paper. Set aside.
In large mixing bowl, whisk together flour, sugar, baking powder, baking soda and salt. Using pastry cutter or fork, cut in cold butter, until small pieces remain.
Mix together almond milk, vinegar, maple extract and vanilla in small bowl. Pour over flour mixture. Using rubber spatula, gently blend until dough just comes together. Fold in toasted walnuts.
Place dough on flat surface, which has been dusted with gluten free flour. Sprinkle a little extra gluten free flour on top. Gently pat dough into 9-inch circle, about 1 inch thick. Using pizza cutter or large sharp knife, cut into 8 triangles.
Place scones on prepared baking pan. Bake 24-26 minutes, until golden brown. Remove from oven and cool slightly on cooling rack.
To make glaze, stir together powdered sugar, maple syrup, 1 tablespoon almond milk, maple extract and vanilla. Add additional almond milk if needed.
With scones still on the cooling rack, drizzle the glaze over scones. Allow glaze to set before serving.
*To toast walnuts, place chopped walnuts on dry baking sheet. Bake at 375 degrees, for about 6-8 minutes. You will smell them when they are just about done. Be sure to keep an eye on them as they can burn quickly. Also, if you can't do walnuts, pecans would be a great alternative.
Recipe by
Sarah Bakes Gluten Free
at https://www.sarahbakesgfree.com/2019/08/gluten-free-vegan-maple-walnut-scones.html