gluten free vegan chocolate covered strawberry cupcakes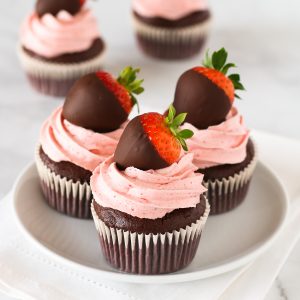 AUTHOR:
Sarah Bakes Gluten Free
1 1/3 cups Sarah's gluten free flour blend*
1/2 cup cocoa powder
1/2 cup cane sugar
1/2 cup brown sugar
1 teaspoon baking powder
1/2 teaspoon baking soda
1/2 sea salt
1/2 cup unsweetened non-dairy milk
1/2 cup water
1/3 cup grape seed or sunflower seed oil
1 tablespoon white vinegar
1 teaspoon pure vanilla extract
1 pint fresh strawberries, washed and dried
3/4 cup non-hydrogenated shortening
1 cup freeze-dried strawberries, ground to powder**
2 1/2 cups powdered sugar
3-4 tablespoons non-dairy milk
1/2 teaspoon pure vanilla extract
Preheat oven to 350 degrees. Line cupcake pan with paper liners. Set aside.
In large mixing bowl, combine flour, cocoa powder, sugar, brown sugar, baking powder, baking soda and salt. Whisk together and set aside.
Stir together non-dairy milk, water, oil, vinegar and vanilla is separate bowl. Add to flour mixture. Stir cupcake batter until combined and smooth.
Divide batter evenly into prepared cupcake pan. Bake cupcakes 20-22 minutes, until baked through. Place on cooling rack to cool completely.
While cupcakes are cooling, make the chocolate covered strawberries. Place mini chocolate chips in a microwave-safe bowl. Microwave on medium heat for 30 seconds. Stir and repeat in 15 second intervals, until chocolate chips are completely melted.
Line baking sheet with parchment paper. Dip strawberries into melted chocolate, tapping off excess. Place on parchment paper. Repeat with remaining strawberries.
Place strawberries in refrigerator, until chocolate is set and ready to place on cupcakes.
To make strawberry buttercream, place shortening in bowl of stand mixer and beat for 1 minute. Measure out 3 tablespoons of ground freeze-dried strawberries and add to mixer. Add powdered sugar, non-dairy milk and vanilla. Beat until light and fluffy, 2-3 minutes. Add additional non-dairy milk if needed.
Place buttercream in pastry bag with large star tip. Pipe buttercream onto cooled cupcakes and top with chocolate covered strawberries.
*Bob's Red Mill gluten free 1-to1 baking flour works great in this recipe as well!
**To grind freeze-dried strawberries, place in blender or food processor. Blend on high until strawberries are ground into a powder.
Recipe by
Sarah Bakes Gluten Free
at https://www.sarahbakesgfree.com/2019/02/gluten-free-vegan-chocolate-covered-strawberry-cupcakes.html