gluten free vegan oatmeal spice muffins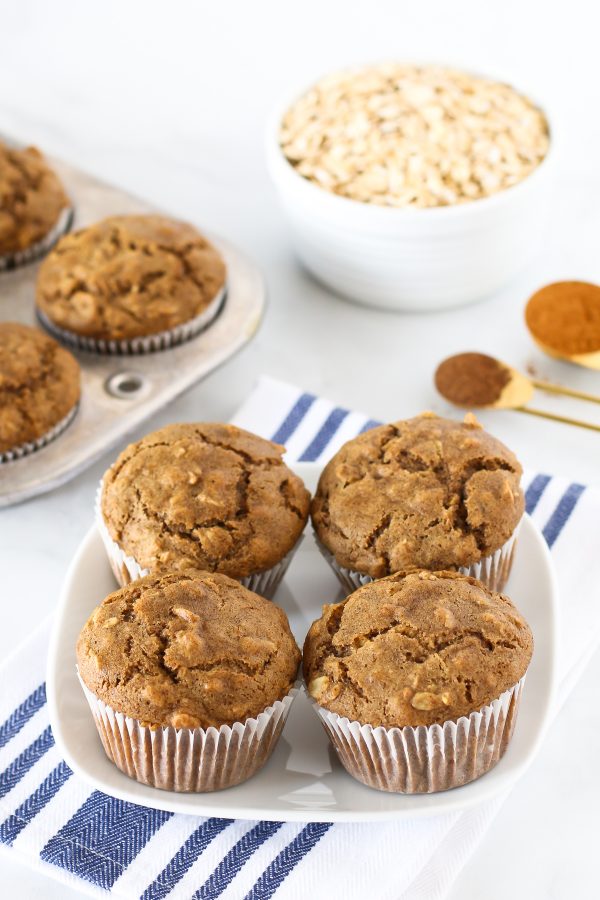 AUTHOR:
Sarah Bakes Gluten Free
1 1/2 cups Sarah's gluten free flour blend
1 cup gluten free rolled oats
2 teaspoons ground cinnamon
1/2 teaspoon ground allspice
1/2 teaspoon ground nutmeg
1/2 teaspoon ground cloves
1 teaspoon baking powder
1/2 teaspoon baking soda
1/2 teaspoon sea salt
1/2 cup brown sugar
1/4 cup cane sugar
1/3 cup refined coconut oil, melted
1/2 cup unsweetened coconut or almond milk, room temperature
1/2 cup water
1 tablespoon vinegar
1 teaspoon pure vanilla extract
Preheat oven to 375 degrees. Line muffin pan with paper liners.
In mixing bowl, whisk together flour, oats, cinnamon, allspice, nutmeg, cloves, baking powder, baking soda and salt. Set aside.
In large mixing bowl, combine brown sugar, sugar, melted coconut oil, almond milk, water, vinegar and vanilla. Add flour mixture and mix batter 1-2 minutes, until batter starts to thicken.
Scoop batter into prepared muffin pan. Bake muffins 20-22 minutes. Remove from oven and place muffins on cooling rack to cool completely.
Recipe by
Sarah Bakes Gluten Free
at https://www.sarahbakesgfree.com/2018/05/gluten-free-vegan-oatmeal-spice-muffins.html