gluten free vegan chocolate snowflake sugar cookies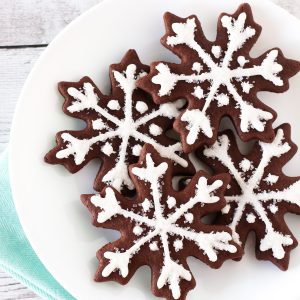 AUTHOR:
Sarah Bakes Gluten Free
1 3/4 cups Sarah's gluten free flour blend
1/2 cup dutch processed cocoa powder
1 teaspoon baking powder
1/2 teaspoon salt
1 1/2 cups powdered sugar
1/3 cup refined coconut oil, soft*
1/3 cup unsweetened coconut milk or almond milk, room temperature
2 teaspoons vanilla extract
1 1/2 cups powdered sugar
1-2 tablespoons unsweetened coconut milk or almond milk
Preheat oven to 350 degrees. Line baking sheets with parchment paper.
In medium bowl, sift together flour blend, cocoa powder, baking powder and salt. Set aside.
In bowl of stand mixer, beat together powdered sugar, coconut oil, coconut milk and vanilla until creamy. Add flour mixture and continue to mix until combined, 1-2 minutes.
Split the dough into two patties and wrap each one in plastic wrap. Let dough rest in refridgerator for 15-30 minutes.
On counter, lay out large piece of plastic wrap. Place cookie dough in the center and top with another piece of plastic wrap. Roll with rolling pin until dough is about 1/4" thick. You don't want it too thin.
Cut dough into snowflakes using snowflake cookie cutter, such as this one. Place cookies on prepared baking sheets.
Bake cookies for 9-12 minutes, centers still soft. Remove cookies from oven and place on cooling rack to cool completely.
Once cooled, make simple glaze for cookies. Whisk together powdered sugar and coconut milk until smooth.
Pour glaze into piping bag with small round tip or ziplock bag, just cutting the tip. Pipe onto cookies, in desired snowflake pattern. Immediately sprinkling on sparkling sugar.
Let cookies set 1-2 hours, for glaze to harden. Store cookies in airtight container.
*Refined coconut oil has a creamier texture and doesn't have a strong coconut flavor.
Recipe by
Sarah Bakes Gluten Free
at https://www.sarahbakesgfree.com/2016/12/gluten-free-vegan-chocolate-snowflake-sugar-cookies.html