gluten free vegan cinnamon roll coffee cake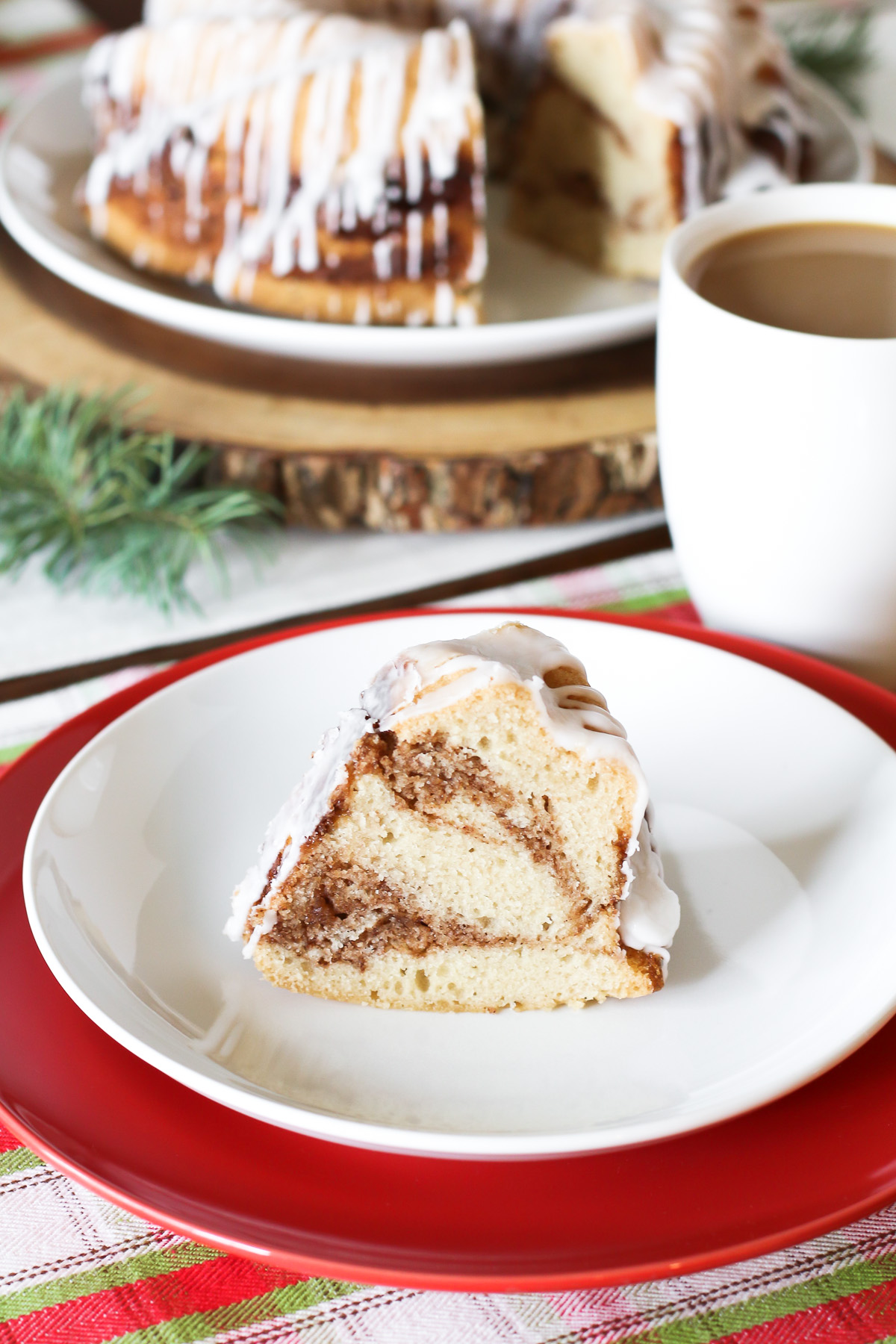 AUTHOR:
Sarah Bakes Gluten Free
1 cup cane sugar
1/4 cup brown sugar or coconut sugar
1 1/2 teaspoons baking powder
3/4 teaspoon baking soda
1 teaspoon sea salt
1 1/2 cups Good Karma unsweetened flax milk
1 1/2 tablespoons white vinegar
1/2 cup grape seed or sunflower seed oil
1 1/2 teaspoons pure vanilla extract
1/4 cup cane sugar
1/4 cup brown sugar or coconut sugar
2 teaspoons ground cinnamon
1 1/2 cups sifted powdered sugar
1-2 tablespoons Good Karma unsweetened flax milk
Preheat oven to 350 degrees. Coat bundt cake pan with nonstick cooking spray. Set aside.
In large mixing bowl, whisk together flour, sugar, brown sugar, baking powder, baking soda and salt.
Mix flax milk and vinegar together in separate bowl. Add oil and vanilla. Mix and pour over flour mixture. Stir batter just until smooth.
To make cinnamon swirl mixture, mix together sugar, brown sugar and cinnamon.
Scoop 1/3 of cake batter into prepared bundt cake pan. Spread into even layer. Top with layer of 1/2 of cinnamon sugar mixture. Using butterknife, swirl cinnamon sugar into cake batter.
Top with additional 1/3 of cake batter and sprinkle on remaining cinnamon sugar mixture. Swirl into batter. Top with remaining cake batter and smooth out until even.
Bake cake 50-55 minutes, depending on bundt cake pan. When toothpick inserted into cake comes out clean, remove from oven and place on cooling rack.
Allow cake to cool in pan 15 minutes. Invert cake onto cooling rack to cool completely.
To make glaze, whisk together powdered sugar and flax milk. When smooth, drizzle over cooled cake.
Let glaze set before slicing. Slice and serve cake.
Recipe by
Sarah Bakes Gluten Free
at https://www.sarahbakesgfree.com/2016/12/gluten-free-vegan-cinnamon-roll-coffee-cake.html