gluten free vegan cinnamon sugar graham crackers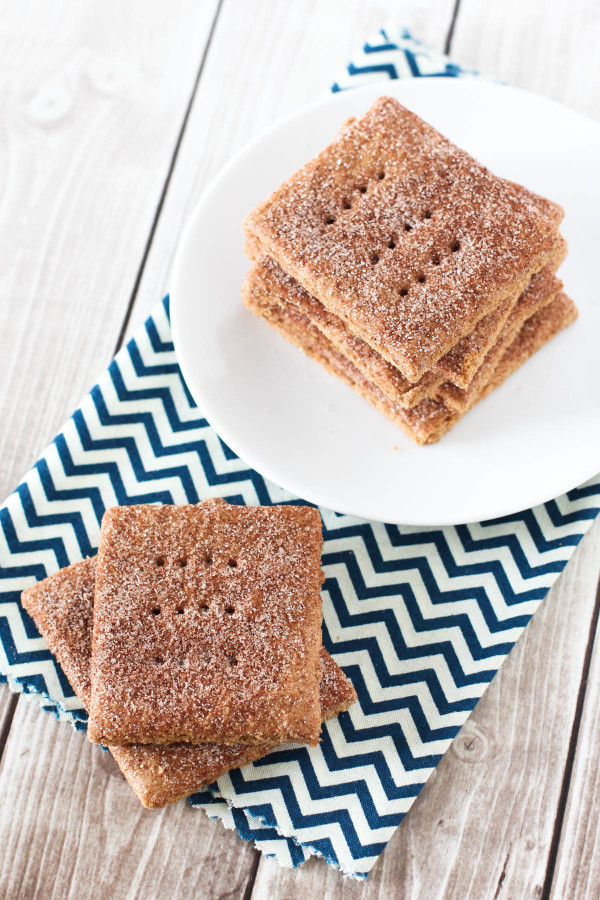 AUTHOR:
Sarah Bakes Gluten Free
1/2 cup Bob's Red Mill gluten free oat flour*
1/4 cup brown sugar or coconut sugar
2 tablespoons cane sugar
1 teaspoon cinnamon
1 teaspoon baking powder
1/2 teaspoon baking soda
1/2 teaspoon salt
1/3 cup refined coconut oil, melted
2 tablespoons water
2 tablespoons pure maple syrup
1 teaspoon pure vanilla extract
2 tablespoons cane sugar
1 1/2 teaspoons ground cinnamon
Preheat oven to 325 degrees. Line baking sheet with parchment paper.
In large bowl of standing mixer with paddle attachment, add flour blend, oat flour, brown sugar, cane sugar, cinnamon, baking powder, baking soda and salt. Turn on low to blend dry ingredients.
To flour mixture, add melted coconut oil, water, maple syrup and vanilla. Continue to blend until dough comes together. Add an additional tablespoon of water, if needed.
Place dough on prepared baking sheet. Top with additional piece of parchment paper. Roll dough into 1/6-inch thick 12x17 rectangle.
Using large knife or pizza cutter, cut dough into 3-inch squares. Poke holes with fork into crackers.
In small bowl, mix together sugar and cinnamon for topping. Sprinkle evenly over graham crackers.
Bake crackers for 20-22 minutes, or until edges begin to brown. Rotate pan after 10 minutes of baking.
Remove crackers for oven. While still warm and on pan, retrace cuts to separate crackers. Allow to cool on pan 10 minutes. Place on cooling rack to cool completely.
Store graham crackers in airtight container for up to 1 week.
*if you can't find gluten free oat flour, simply blend 1/2 cup certified gluten free rolled oats in blender, until finely ground.
Recipe by
Sarah Bakes Gluten Free
at https://www.sarahbakesgfree.com/2016/04/gluten-free-vegan-cinnamon-sugar-graham-crackers.html