gluten free vegan pop tarts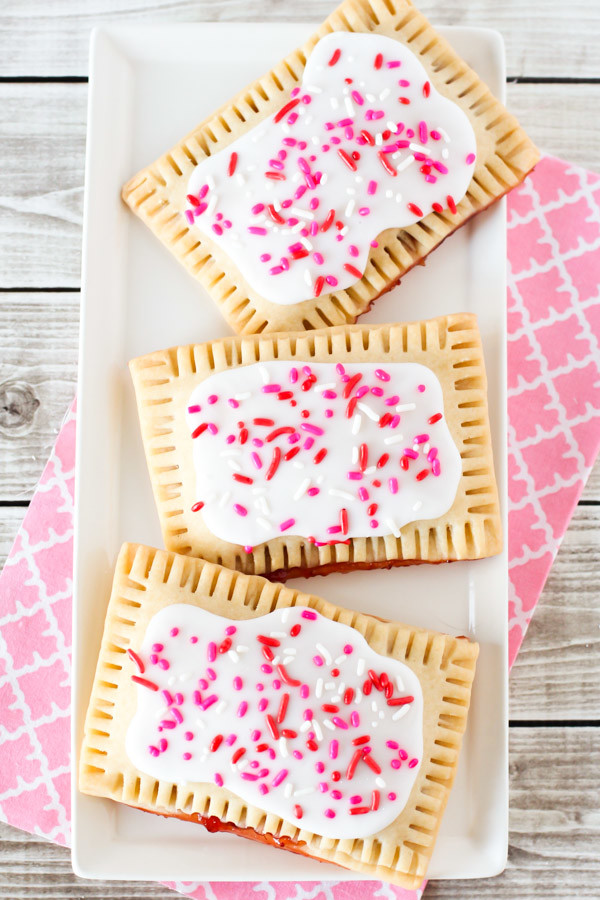 AUTHOR:
Sarah Bakes Gluten Free
1 1/2 cups Sarah's gluten free flour blend
1 tablespoon cane sugar
1/2 teaspoon salt
6 tablespoons Earth Balance vegan butter, cold
4-6 tablespoons ice cold water
3/4 cup strawberry, raspberry or cherry preserves
1 cup powdered sugar
2 tablespoons So Delicious unsweetened coconut milk
1/2 teaspoon pure vanilla extract
gluten free colored sprinkles (optional)
1 tablespoon organic cane sugar
Sift together flour blend, sugar and salt. Cut in vegan butter, using pastry cutter. Combine until resembles a course meal.
Pour in water and continue to blend until dough comes together. Add additional tablespoon of water as needed.
Pat dough into round disc, wrap in plastic wrap and place in refrigerator for an hour or until ready to use.
Preheat oven to 375 degrees. Line baking sheet with parchment paper.
On counter surface, lay out large piece of plastic wrap. Place dough in center and top with another large piece of plastic wrap. Using rolling pin, roll out your dough into rectangle, about 1/8-inch thick.
Using pizza cutter, cut dough into 12 5x3-inch rectangles. Place 6 rectangles onto prepared baking sheet.
Spread 1 1/2 tablespoons of preserves down center of dough, leaving 1/2-inch rim on all sides. Top with additional rectangle. To seal dough, press with finger and then use fork to crimp edges.
Bake in oven for 22-25 minutes or until golden brown (some of preserves may leak out). Allow to cool for 10 minutes on cooling rack.
To make glaze, mix together powdered sugar, coconut milk and vanilla. Spread over cooled pop tarts. Top with sprinkles. Let glaze set.
Recipe by
Sarah Bakes Gluten Free
at https://www.sarahbakesgfree.com/2016/02/gluten-free-vegan-pop-tarts.html