gluten free vegan chocolate-dipped macaroons and pascha chocolate giveaway!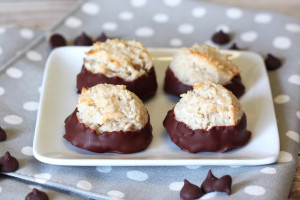 AUTHOR:
Sarah Bakes Gluten Free
1 cup Bob's Red Mill unsweetened shredded coconut
2 tablespoons Sarah's gluten free flour blend
1/3 cup So Delicious lite culinary coconut milk
2 tablespoons organic cane sugar
2 tablespoons pure maple syrup
1/2 teaspoon pure vanilla extract
1/2 cup Pascha dairy free semi-sweet chocolate chips
Preheat oven to 350 degrees. Line baking sheet with parchment paper.
In small saucepan, stir together coconut milk, cane sugar, maple syrup and vanilla. Add shredded coconut and flour. Mix until fully combined.
Simmer coconut mixture over low heat for 2-3 minutes, just until it thickens. Remove from heat.
Using cookie scoop, place scoops of coconut mixture onto baking sheet. Bake for 16-18 minutes, until golden brown. Place macaroons on cooling rack to cool.
While macaroons cool, melt chocolate chips in microwave-safe bowl on low for 30 seconds or over double broiler. When almost melted, remove from heat and stir until completely melted.
Dip bottoms of macaroons into chocolate, tapping off excess. Set on parchment paper to set. Store in air-tight container.
Recipe by
Sarah Bakes Gluten Free
at https://www.sarahbakesgfree.com/2015/03/gluten-free-vegan-chocolate-dipped-2.html