gluten free vegan gingerbread bundt cake with espresso glaze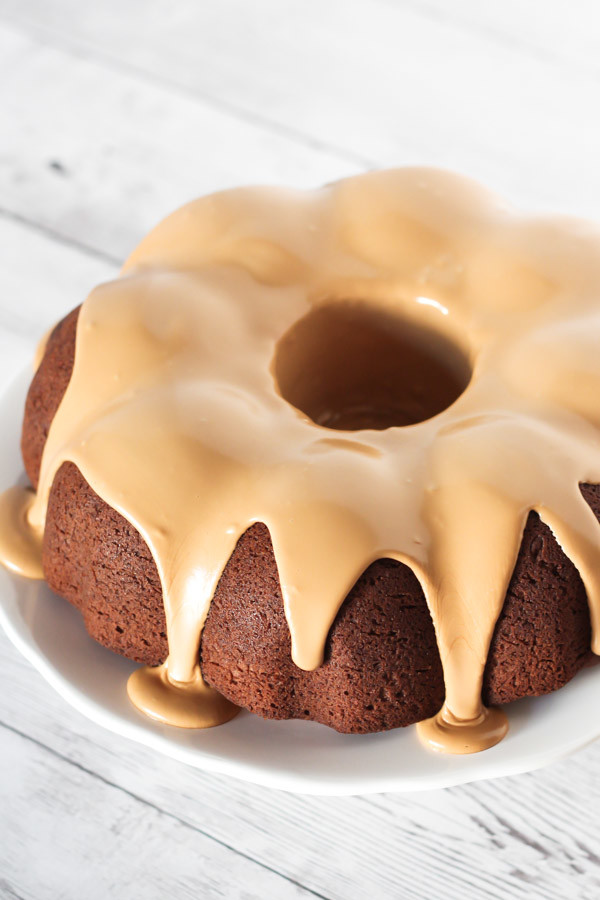 AUTHOR:
Sarah Bakes Gluten Free
RECIPE TYPE:
cupcakes & cakes
2 teaspoons baking powder
1 teaspoon baking soda
1/2 teaspoon salt
1 1/2 teaspoons cinnamon
1 1/2 teaspoons ground ginger
2/3 cup sunflower seed or light flavored oil
1/2 cup So Delicious unsweetened coconut milk
1/2 cup water
1/2 cup unsweetened applesauce
1 cup organic brown sugar or coconut sugar
1/2 cup molasses
1/4 cup cane sugar
1 teaspoon pure vanilla extract
2 tablespoons warm water
2 teaspoons espresso powder
2 cups sifted powdered sugar
1/2 teaspoon pure vanilla extract
Preheat oven to 350 degrees. Prepare bundt pan by spraying with cooking spray.
In large mixing bowl, sift together flour, baking powder, baking sod, cinnamon, ginger and salt. Set aside.
Mix together oil, coconut milk, water, applesauce, brown sugar, molasses, sugar and vanilla until smooth. Add to flour mixture and stir to combine.
Pour batter into prepared bundt cake pan. Bake for 40-45 minutes or until toothpick inserted in center comes out clean.
Allow to cool in pan for 15 minutes. Invert onto cooling rack to cool completely.
To make glaze, dissolve espresso powder in 2 tablespoons water. Add powdered sugar and vanilla extract. Stir until smooth.
Drizzle glaze over cooled cake. Slice and serve.
Recipe by
Sarah Bakes Gluten Free
at https://www.sarahbakesgfree.com/2015/12/gluten-free-vegan-gingerbread-bundt-cake-with-espresso-glaze.html