gluten free vegan strawberry vanilla cupcakes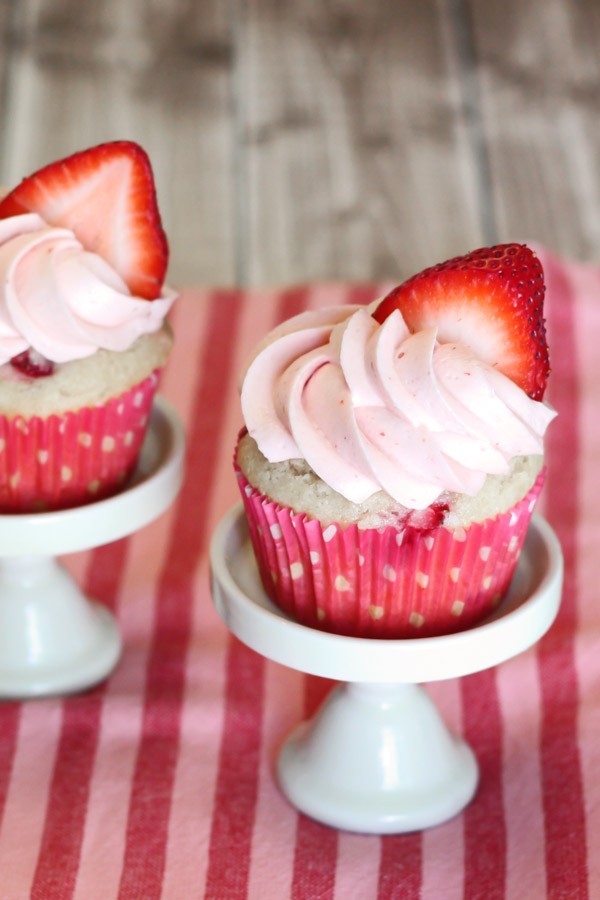 AUTHOR:
Sarah Bakes Gluten Free
1 3/4 cups Sarah's gluten free flour blend*
1 teaspoon baking powder
1/2 teaspoon baking soda
1/2 teaspoon salt
1/2 cup So Delicious unsweetened coconut milk
1/3 cup water
1 tablespoon white vinegar
1 cup organic cane sugar
1/3 cup sunflower seed or canola oil
2 teaspoons pure vanilla extract
1/2 cup diced fresh strawberries
1/2 cup Earth Balance vegan butter, cold
3 tablespoons organic non-hydrogenated shortening
3 cups organic powdered sugar, sifted
5-6 fresh strawberries, pureed (2-3 tablespoons strawberry puree)
1 1/2 teaspoons pure vanilla extract
additional sliced strawberries for topping (optional)
Preheat oven to 350 degrees. Line cupcake pans with paper cupcake liners.
Sift together flour blend, baking powder, baking soda, and salt. Set aside.
In large mixing bowl, stir together coconut milk, water and vinegar. Stir until milk is curdled.
Add sugar, oil, and vanilla. Slowly whisk in flour mixture. Beat for 1 minute. Gently fold in diced strawberries.
Pour batter into prepared cupcake pan. Bake 16-18 minutes, or until toothpick inserted in center of cupcake comes out clean. Place cupcakes on cooling rack and cool completely.
To make buttercream, start by placing strawberries in blender or food processor and puree until smooth.
In mixing bowl of large standing mixer, beat together vegan butter and shortening for 1 minute. Add sifted powdered sugar, 2 tablespoons strawberry puree and vanilla.
Beat buttercream for additional 2 minutes. Add additional 1-2 teaspoons of puree if needed. Beat until buttercream is light and fluffy.
Place in piping bag with large star tip and frost cooled cupcakes. Top with sliced strawberries. If frosting starts to soften, place cupcakes in refrigerator.
Best served within 1-2 days. If not serving same day, store cupcakes in refrigerator.
*For best results on texture and taste, be sure to make the lighter flour blend by replacing the 2 cups sweet white sorghum flour with white rice flour.
Recipe by
Sarah Bakes Gluten Free
at https://www.sarahbakesgfree.com/2014/04/gluten-free-vegan-strawberry-vanilla.html