dairy free peanut butter cups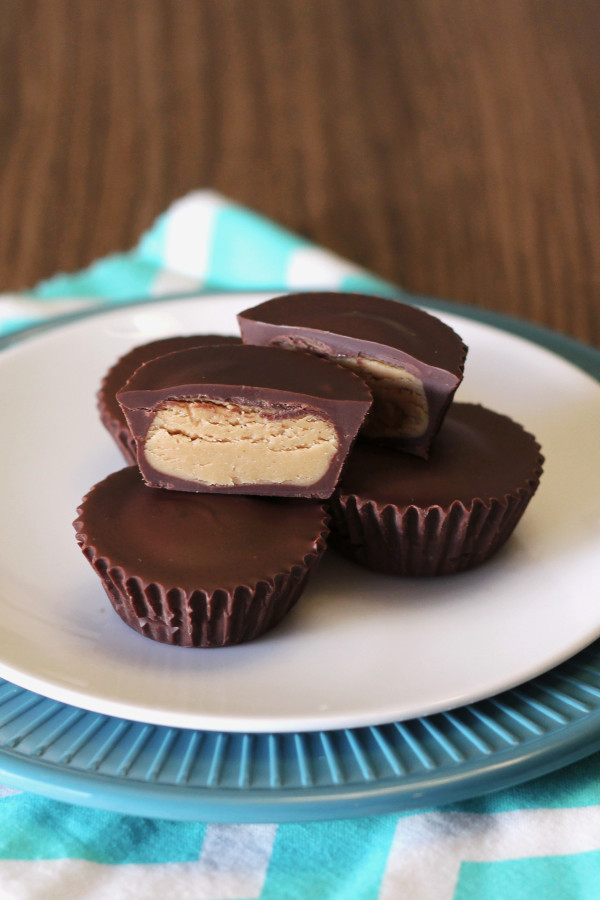 AUTHOR:
Sarah Bakes Gluten Free
SERVES:
32 peanut butter cups
2 cups dairy free chocolate chips
2 teaspoons non-hydgrogenated shortening
1/2 cup creamy peanut butter or sunflower seed butter
1 cup powdered sugar
1 tablespoons non-hydrogenated shortening
1-2 tablespoons So Delicious coconut or almond milk (as needed)
Prepare mini cupcake pans by lining with mini cupcake liners. Set aside.
Place chocolate chips and 2 teaspoons shortening in microwave-safe bowl. Melt in 30-second intervals, stirring in-between. Stir until completely melted and smooth.
Place 1 teaspoon melted chocolate in bottom of each cupcake liner. Gently tap pan on counter until chocolate is evenly spread. Place in refridgerator for 10 minutes to set.
While chocolate is setting, make peanut butter filling. Mix together peanut butter, powdered sugar, 1 tablespoon shortening, vanilla extract and 1 tablespoon coconut milk.
Add an additional tablespoon coconut milk if needed. Knead dough together until it is no longer crumbly and holds it shape.
Remove cupcake pan from refrigerator. Take a teaspoon of peanut butter dough and roll into ball. Flatten into disc, almost size of cupcake liner.
Place peanut butter disc into chocolate-filled cupcake liner. Top with additional melted chocolate, just enough to cover peanut butter filling.
Smooth out tops by gently tapping pan on counter. Place back in refrigerator to set and become firm, about 15-20 minutes.
Remove peanut butter cups and place in airtight container. I like to keep them stored in refrigerator, to keep firm.
Recipe by
Sarah Bakes Gluten Free
at https://www.sarahbakesgfree.com/2014/10/dairy-free-peanut-butter-cups.html