gluten free vegan almond poppyseed muffins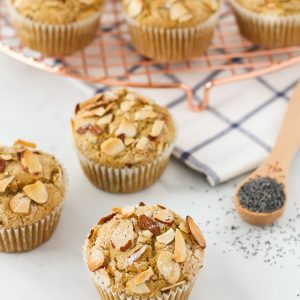 AUTHOR:
Sarah Bakes Gluten Free
1/2 cup cane sugar
1/4 cup brown sugar
1/4 cup sliced almonds, crushed*
1 tablespoon poppyseeds
1 teaspoon baking powder
1/2 teaspoon baking soda
1/2 teaspoon sea salt
1/2 cup unsweetened almond milk or oat milk
1/2 cup water
1/3 cup grapeseed oil or avocado oil
1 tablespoon apple cider vinegar
1 teaspoon pure almond extract
1/2 teaspoon pure vanilla extract
1/4 cup sliced almonds, for topping
1 tablespoon cane sugar, for topping
Preheat oven to 375 degrees. Line muffin tin with paper liners or spray with nonstick cooking spray.
In large mixing bowl, whisk together baking flour, sugar, brown sugar, crushed almonds, poppyseeds, baking powder, baking soda and salt.
Add almond milk, water, oil, vinegar, almond extract and vanilla. Whisk until muffin batter is smooth.
Scoop batter into prepared muffin tin. Top with additional sliced almonds and a sprinkling of sugar. Bake 20-22 minutes, until golden brown and almonds are toasted.
Remove muffins from muffin tin and place on cooling rack to cool completely.
*For the crushed sliced almonds, I just break the almonds into small pieces .
Recipe by
Sarah Bakes Gluten Free
at https://www.sarahbakesgfree.com/2019/10/gluten-free-vegan-almond-poppyseed-muffins.html