sea salt chocolate almond bark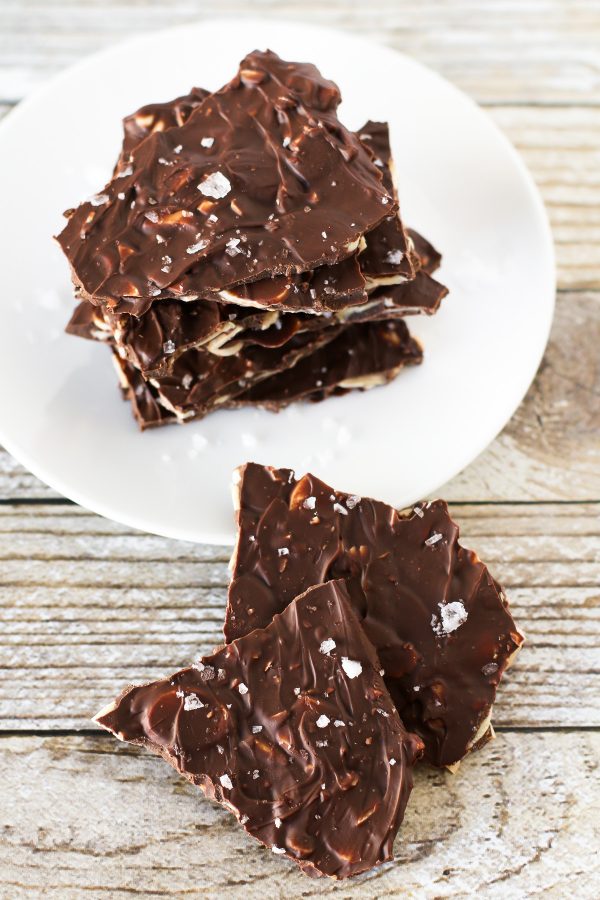 AUTHOR:
Sarah Bakes Gluten Free
1 1/2 cups dairy free semi-sweet or dark chocolate chips
1 cup sliced almonds, toasted*
3/4 teaspoon sea salt flakes**
Prepare baking sheet by lining with parchment paper. Set aside.
In glass bowl, place chocolate chips. Microwave on medium heat for 30 seconds. Stir and microwave an additional 15 seconds. Stir and microwave additional 15 seconds if needed.
Stir chocolate chips until fully melted and smooth. Add toasted almonds and stir gently to coat.
Spread chocolate coated almonds onto prepared baking sheet, in even layer. Sprinkle sea salt flakes over chocolate.
Place baking sheet into refrigerator for 1-2 hours, to completely harden.
Remove chocolate bark from refrigerator and break chocolate into roughly 3-inch pieces. Place into airtight container and store in refrigerator.
*To toast sliced almonds, place in single layer on baking sheet. Bake at 350 degrees 3-5 minutes, stirring halfway through. Bake until golden and toasted.

**If you can't find sea salt flakes, you can use 1/2 teaspoon sea salt.
Recipe by
Sarah Bakes Gluten Free
at https://www.sarahbakesgfree.com/2017/02/sea-salt-chocolate-almond-bark.html