dairy free fresh peach ice cream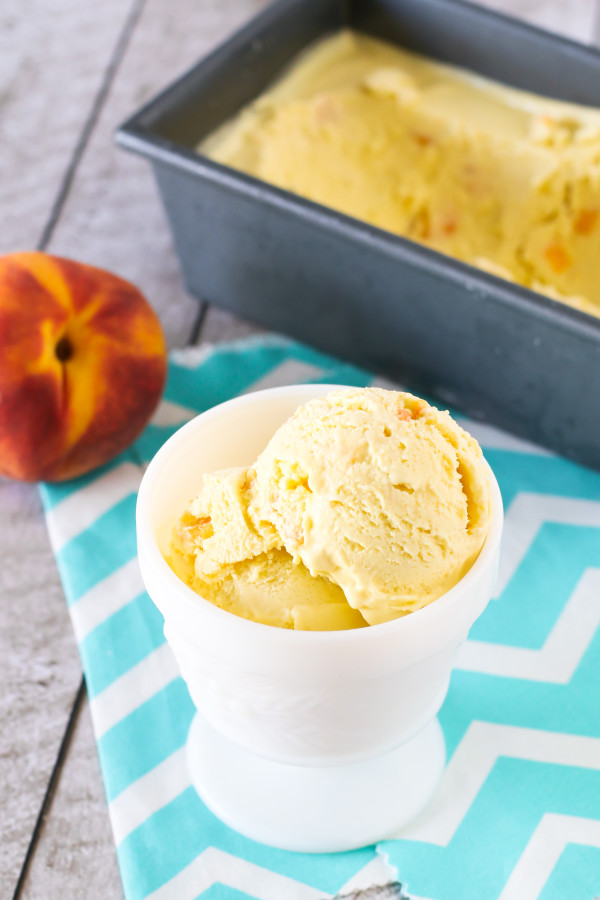 AUTHOR:
Sarah Bakes Gluten Free
RECIPE TYPE:
frozen treats
1 cup raw cashews, soaked 3-4 hours or overnight
2 1/2 cups full-fat coconut milk, shaken
1/2 cup cane sugar
2 tablespoons coconut oil
2 tablespoons pure maple syrup
1 1/2 teaspoons pure vanilla extract
1 1/2 cups fresh peaches, peeled and chopped
Rinse and drain soaked cashews and place in high-powered blender. Add coconut milk, sugar, coconut oil and maple syrup. Blend on high 1-2 minutes, until creamy and sugar is dissolved.
Add vanilla extract and 1 cup of chopped peaches to ice cream base. Blend until well combined and smooth.
Pour ice cream mixture into bowl and cover. Refrigerate until chilled, 1-2 hours.
Turn on your ice cream maker, making sure to follow specific instructions for your ice cream maker.
Pour ice cream mixture into bowl of ice cream maker. Churn until ice cream becomes soft-serve texture (mine took about 20 minutes). During last minute of mixing, add remaining 1/2 cup diced peaches.
Pour peach ice cream into freezer-safe container and cover. Freeze until firm, about 3-4 hours. Allow to sit on counter 10 minutes to soften before serving.
Recipe by
Sarah Bakes Gluten Free
at https://www.sarahbakesgfree.com/2016/09/dairy-free-fresh-peach-ice-cream.html