gluten free vegan blackberry cheesecake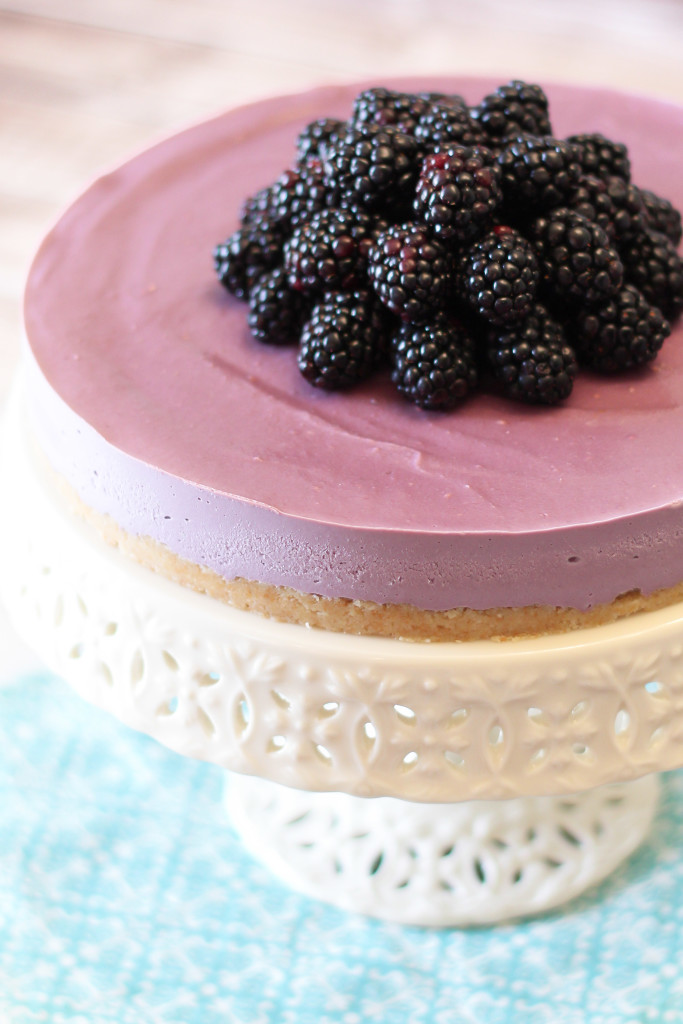 AUTHOR:
Sarah Bakes Gluten Free
1 1/2 cups Bob's Red Mill almond flour/meal
1/4 cup Bob's Red Millcoconut sugar
dash sea salt
3 tablespoons coconut oil, melted
2 tablespoons pure maple syrup
2 1/2 cups raw cashews, soaked overnight or 3-4 hours
1/2 cup So Delicious full-fat culinary coconut milk
1/2 cup Bob's Red Mill coconut sugar
1/3 cup coconut oil, melted
1/4 cup lemon juice
2 tablespoons pure maple syrup
zest of 1 lemon
1 teaspoon pure vanilla extract
1 cup fresh blackberries
additional 2 cups blackberries
Prepare 9-inch springform pan by lightly spraying with nonstick cooking spray and lining bottom with parchment paper.
To make crust, stir together almond flour, coconut sugar and salt. Add melted coconut oil and maple syrup. Mix until well combined.
Press crust mixture into bottom of cheesecake pan. Place in refrigerator to chill and become firm.
Place soaked cashews (soaked in water and drained) in high-powered blender or food processor. Add coconut milk, coconut sugar, melted coconut oil, lemon juice and maple syrup. Blend on high 1-2 minutes, until creamy (add additional tablespoon of coconut milk if needed).
Add 1 cup blackberries, lemon zest and vanilla to cashew mixture. Continue to blend until blackberries are well blended.
Pour filling over chilled crust and smooth out evenly. Place cheesecake in freezer, 2-3 hours or until firm. Transfer cheesecake to refrigerator and cover lightly with plastic wrap.
When ready to serve, remove cheesecake from springform pan and place on serving plate. Top with remaining fresh blackberries. Slice and serve chilled. Store cheesecake in refrigerator.
Recipe by
Sarah Bakes Gluten Free
at https://www.sarahbakesgfree.com/2015/03/gluten-free-vegan-blackberry-cheesecake.html